NAA mediaXchange: Local Shopping Apps, Part II — Mobile Couponing Moves Forward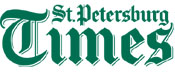 Groupon gets much of the credit for "making coupons cool again." But it's the smartphone, with its inherent social, geo and touch capabilities, that may make them cooler than ever. By "cooler," we mean discoverable and relevant.
The St. Petersburg Times believes there is no better way to unlock the city than through the mobile device. As a result, it has jumped into the space with "Things-To-Do," an iPhone coupon application built around a deep database of local shops, venues and events.
Digital Sales Manager Maryann Balbo presented the app at NAA mediaXchange and underscored that ad-as-content is a difference-maker in enabling effective, pure-play advertising platforms to layer on top. For St. Pete, the database "populated with local content" provides the foundation on which the app operates.
From there, users can search by neighborhood, ZIP code or through a "near me" button that leverages the phone's GPS. They can subsequently earmark favorites to create personalized lists and can click-to-call for reservations.
The most compelling value is found in user opt-ins that trigger push coupon notifications for timely, geotargeted deals. Once a user chooses a local outlet as a favorite, permission is granted for the business to send marketing offers. These can be leveraged by the merchant to promote a special, deplete an item or motivate other desired consumer actions.
For these businesses, the double hook is a low price point coupled with a simple interface. The Times uses a fixed-price model without bidding or keywords. The platform is self serve, allowing merchants to "send out their own messages in real time from any device."
Balbo has already seen rapid acceptance of the app, with 18,000 downloads in the first 60 days. She points to marketing. The news organization is utilizing all of its products and outlets to promote "Things-To-Do," including point-of-purchase materials, window decals, bill stuffers and event marketing. Businesses reap the benefits of this holistic approach, which not only prompts downloads, but motivates users to use the "favorite" functionality to truly make the app their own.